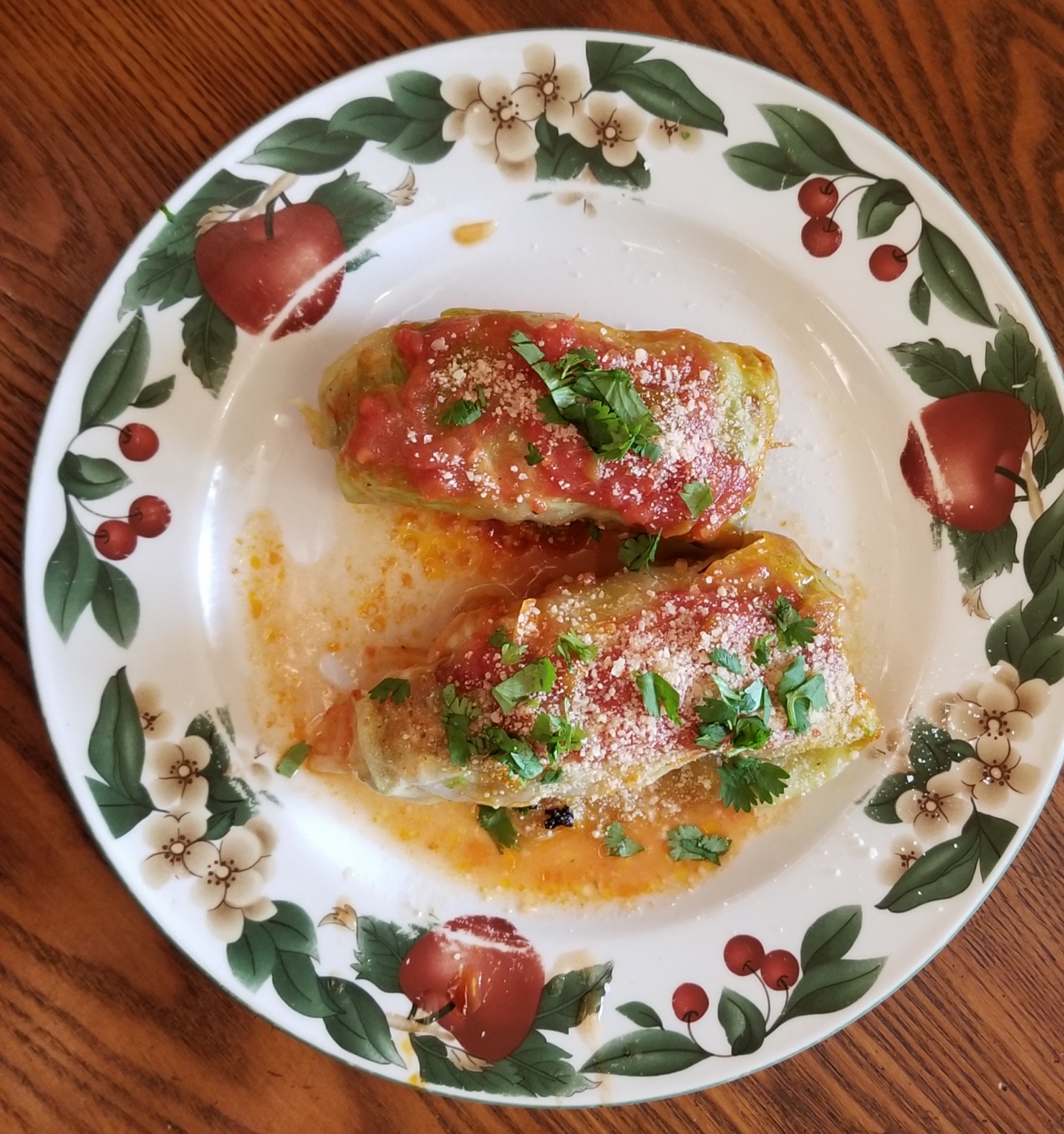 Ingredients:
8 cabbage leaves
8 oz ground pork
8 oz ground beef
½ onion, finely chopped
1 egg, beaten
1 tsp salt
1 finely diced Jalapeno pepper (optional)
8 oz mozzarella cheese
1 tbsp lard (or coconut oil)*
1 cup (240 mL) water
2 tbsp powdered beef consommé (bullion)
2 tbsp butter (or coconut oil, for the simmering process)*
8 tbsp Picante sauce (or any salsa of your choice)
salt, to taste
black pepper, to taste
grated parmesan cheese, to taste and presentation
fresh cilantro, to taste and presentation
Directions:
Blanch the cabbage leaves in boiling water for 3 minutes, then transfer directly to a large bowl of ice water. Carefully remove the raised portion of the tough stem, finely dice and set aside.
In a medium bowl, combine the ground pork, ground beef, diced cabbage stems, onion, egg, salt, and jalapeno pepper, and mix until well-combined. Divide into eight equal parts.
Form each portion of meat into a patty and wrap around a 1 oz piece of mozzarella cheese until completely encased. Place the meat and cheese on a cabbage leaf, fold in the front and right side, and roll up. Then fold the left side inwards towards the meat filling to seal. Repeat with the remaining meat and cabbage leaves.
Heat lard (or coconut oil)* in a medium skillet over medium heat. Add the cabbage rolls and fry for 3 minutes or until brown on each side. Add water, bullion, and butter (or coconut oil)* and heat until boiling. Cover tightly and simmer for 15 minutes.
Remove cabbage rolls from pan and top each roll with 2 tbsp Picante sauce, and sprinkle Parmesan cheese, cilantro, salt, and pepper to taste, and serve.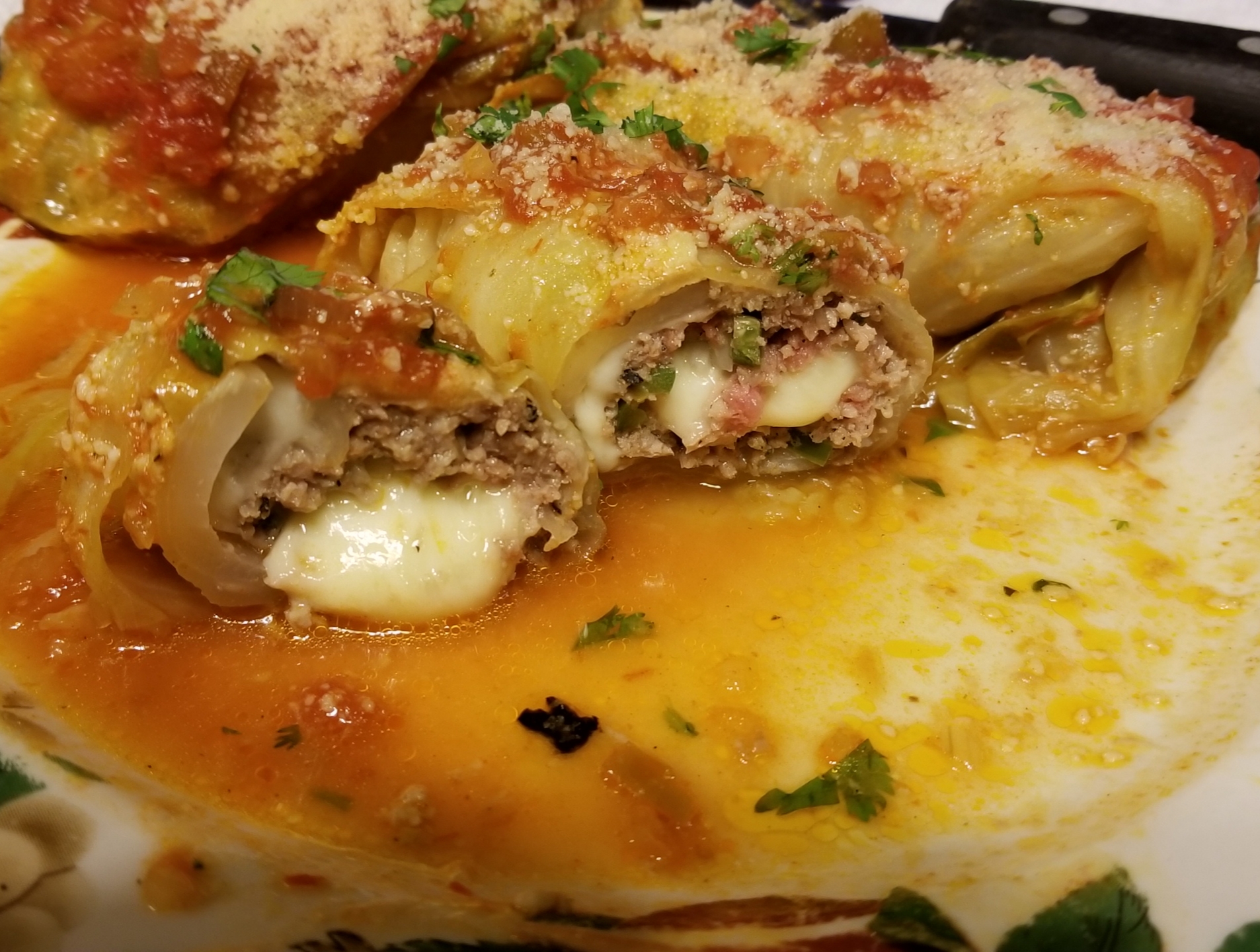 You can even sprinkle on a few crushed red pepper flakes to spice it up a little more!
Notes and nutritional facts:
Serves 4 (serving size: 2 rolls)
Calories per serving: 621
| | |
| --- | --- |
| Fat | 48.3g |
| Saturated fat | 22.4g |
| Polyunsaturated fat | 1.6g |
| Monounsaturated fat | 8.8g |
| Trans fat | 0.8g |
| Cholesterol | 194.4mg |
| Sodium | 2194.9mg |
| Potassium | 419.1mg |
| Carbohydrates | 10.6g |
| Dietary Fiber | 3.0g |
| Sugars | 6.9g |
| Protein | 36.2g |
| Vitamin A | 25.7% |
| VitaminC | 54.8% |
| Calcium | 38.6% |
| Iron | 16.9% |
FYI:
*All the calories in coconut oil and lard come from dietary fatty acids. We need some fat in our diets to absorb vitamins, protect organs, create our several and varied hormones, and keep our body temperature within a normal range. One tablespoon of coconut oil or lard has about 13.5 grams of fatty acids. Because each gram of fat has 9 calories, you'll get around 120 calories from a tablespoon of either, lard or coconut oil.